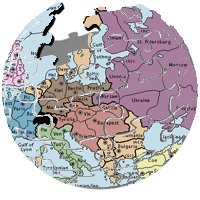 Welcome to Diplomacy Wiki
Diplomacy Wiki is an encyclopedia about the game Diplomacy that anyone can edit.

130 articles since February 6, 2010 (List of all articles)
Help us out here!
Diplomacy Wiki is new, and therefore we do not have very many articles, and the quality of the articles is not perfect. Everyone is welcome to edit and create pages.
We are making articles about each territory in the game please make a few.
Articles
Strategy Articles by Country
Diplomatic Strategy
Convention Reports
Zines
Goals
We would like to soon have pages explaining all basic things important to Diplomacy.
Eventually we would also like to have pages...
relating strategies and discussing them.
showing information about popular variants of Diplomacy.
Latest activity